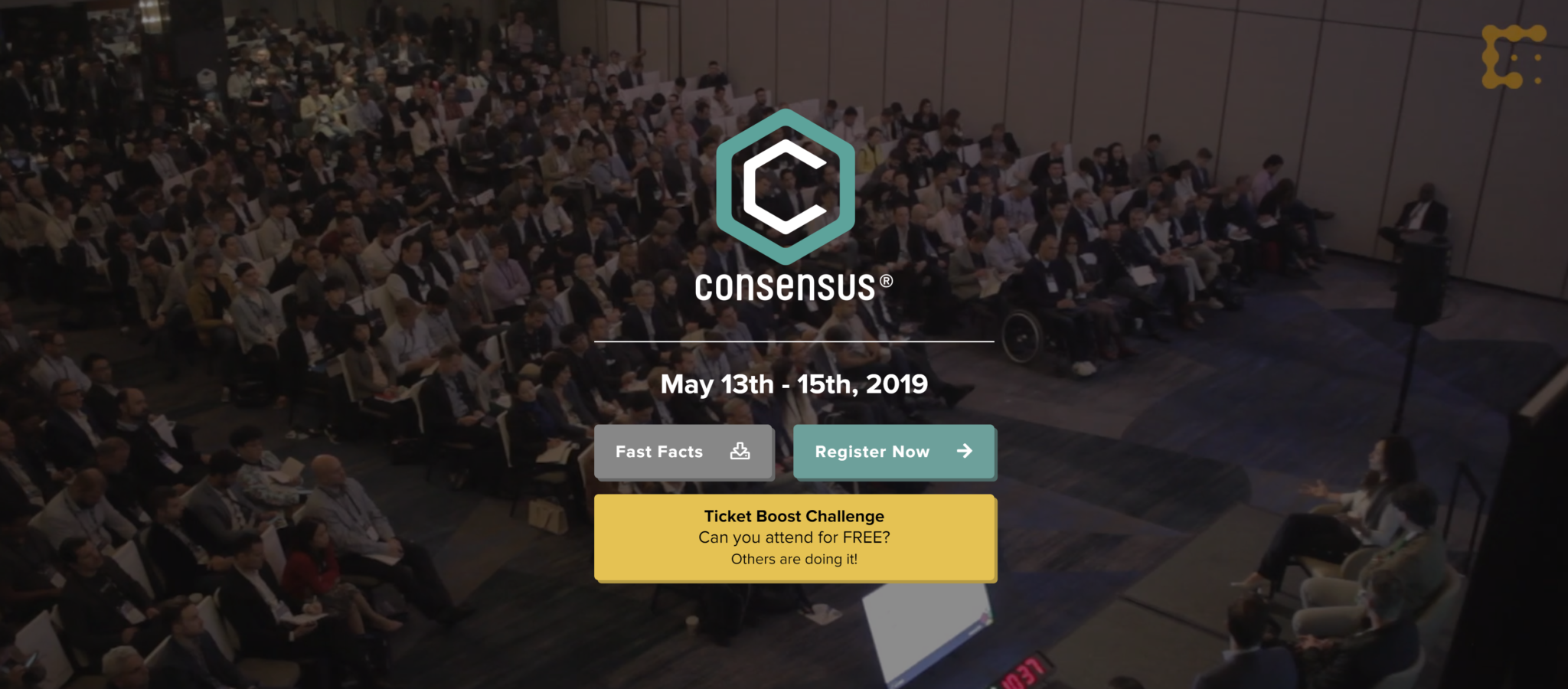 Consensus Blockchain Conference 2019: Everything You Need to Know
If you're looking to attend one of the biggest blockchain conferences in all of crypto this year, consider checking out the Consensus Blockchain Conference this May, 2019. Established in 2015, Consensus has rapidly risen to become one of the premier blockchain conferences to attend, attracting nearly every major company, founder, investor, and developer in the blockchain world (at one point or another). It's designed to be a "big tent" for the blockchain industry, breaking down barriers which otherwise separate enterprise and individual, and aimed at peer-to-peer exchange.

Let's take a look at the important details and what you can expect when attending Consensus this 2019.

Consensus Conference 2019 Details
The When and the Where
Consensus 2019 will run from Monday, May 13th to Wednesday, May 15th, 2019 at the Sheraton New York Times Square Hotel and New York Hilton Midtown.

The Who & The What
You can find the skeleton agenda over at the CoinDesk website, which lists the various themes of the conference, a tentative schedule, and its respective speakers. Some notable speakers you can expect this year at Consensus 2019 are:

That's just a drop in the bucket of some of the speakers you can expect when attending Consensus Conference 2019 this year.

The 2019 Consensus Conference is set to highlight three major categories and areas of discussion: Business, Markets, and Technology. Broken down even further, 'Business' topics will see the likes of blockchain capital formation, gaming for users, crypto sanctions, blockchain for the public sector, and adoption challenges addressed, while 'Markets' will tackle how to regulate crypto, the frenzy of crypto bubbles, the intersection between Wall Street and crypto, and policing the blockchain. Finally, 'Technology' will address the various platform wars taking place (ex. Scalability, decentralization, security), what blockchain will look like in 10-50 years, why privacy matters, and crypto mining.

Some interesting topics that will be addressed in the schedule include:

Crypto Meets E-Sports,
Crypto Meets OFAC,
Guarding Against 51% attacks,
GDPR Implications for Blockchain,
How Miners are Weathering Crypto,
The Future of Blockchain-based Lotteries and Casinos,
Stablecoin Uses: Beyond Arbitrage, and
Wall Street Meets Crypto.
Keep in mind that the above are just a select few from an unfinished list, which is still subject to change. You can check out a 2018 review of the various speakers and topics here.

How to Register For Consensus 2019
To register for the 2019 Consensus Blockchain Conference, head on over to to CoinDesk's 'Registration' page, which lists the respective prices for various classes. Tickets range anywhere from USD $299 for a 'Construct' ticket (which only authorizes access to the Sheraton), up to $1,299 for an 'Early Adopter' ticket. Note that conference-goers can refer persons in their network and ultimately save on ticket price for doing so.

Payment is accepted in most major credit and debit cards, as well as Bitcoin (BTC). Checks and bank transfer payments are not accepted after April 26th, 2019.

BlockchainSEO Consensus 2019 Tips
Having attended several of the biggest blockchain conferences and events in 2018 (including Consensus Singapore), we, at BlockchainSEO, have a few recommendations and tips for newcomers.

First, it can be an extremely overwhelming experience at first, so we recommend approaching Consensus with somewhat of a game-plan. What are you looking to take away from it? Are there any specific projects you really want to talk to and pick their brains? Are you going there specifically for funding? It can be easy to get caught up in the hustle and the bustle of the event itself, and somewhat difficult to navigate at points, so make sure you jot down a few goals and takeaways you're hoping to achieve.

Second, do attend an after-party if you have the chance. Oftentimes, blockchain projects and individuals will be on a mission of their own during the day, and difficult to track down or talk to in great depth about certain topics, so checking out an after-party is one of the better ways to get up close and personal with individuals you might not otherwise have been able to engage with during the day.

Third, make sure to have all your company and product's essentials prepared (ex. Business cards, short pitch, etc…), as it is often hectic inside, and having a 2 hour long conversation with someone about your project likely isn't in the cards. Get down to the nitty gritty, and quick.

Finally, it's not weird or odd to cold-approach someone out of the blue at the Consensus Blockchain Conference. After all, you're both there for the same reason. At Consensus Singapore in 2018, we found that most people were excited to chat about pretty much anything, and the good far outweighed the bad (in terms of ego as well). Consensus is a great way to branch out of your shell and meet like-minded individuals.

-Obiter Cryptum