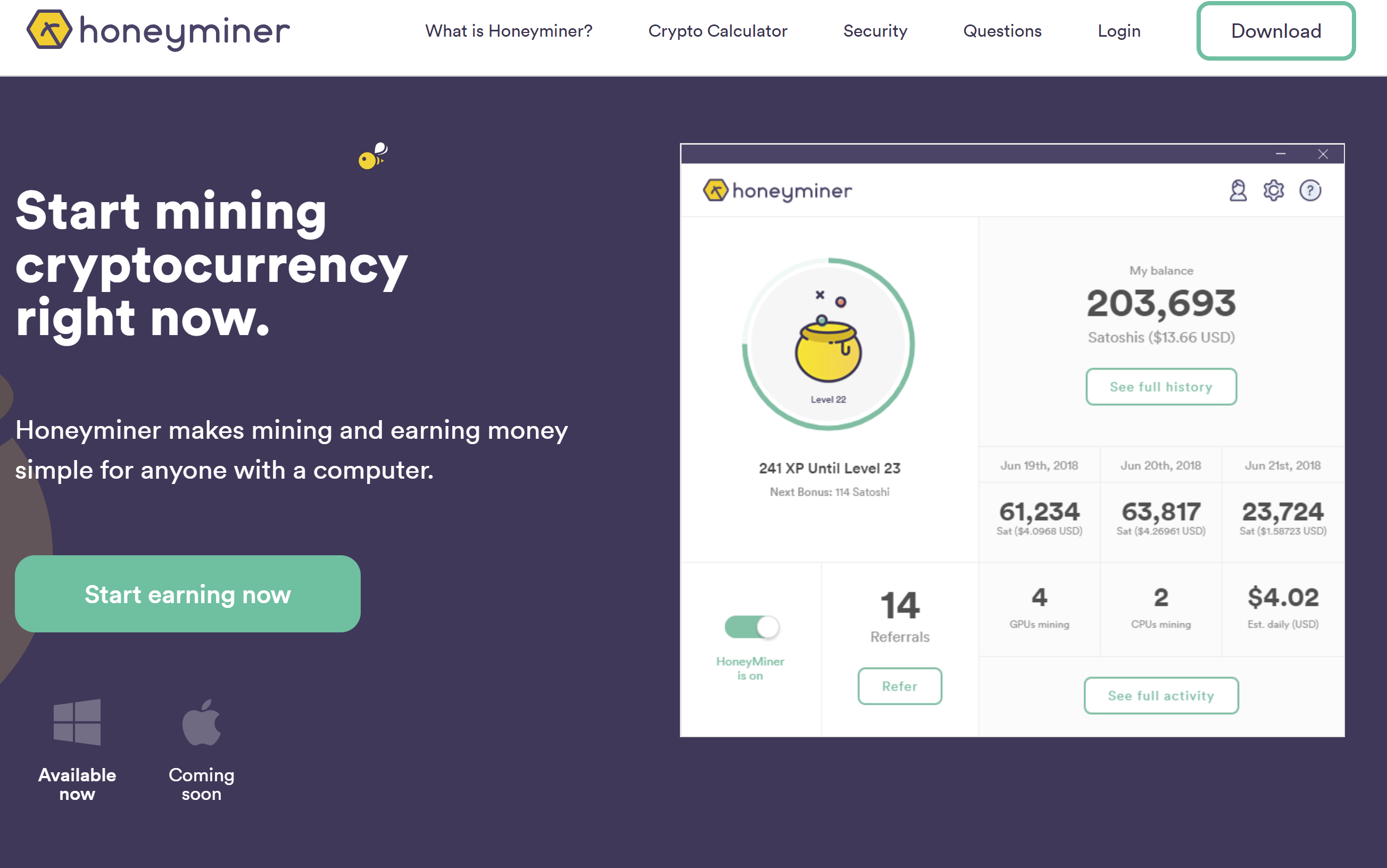 What is Honeyminer? Mining Bitcoins For Free
If you ever considered mining Bitcoin or other cryptocurrencies but didn't want to shell out (or build) an expensive mining rig, here's your chance. And, with present cryptocurrency market conditions, it likely isn't the most financially prudent step to be purchasing a Bitcoin or Ethereum mining rig, which might ultimately never generate a profit.
Below is a breakdown of Honeyminer, a new proprietary mining algorithm and software geared to give users and cryptocurrency enthusiasts a taste of what it's like to mine Bitcoin for free!
If you're a blockchain company or law firm and looking to increase your online presence and grow monthly traffic, reach out to us today for a free website diagnosis and consultation. At Blockchain SEO, we specialize in getting your message heard, and in the most effective way possible.
Reach out to us by filling out our contact form online, or by emailing us at owen@blockchainseo.net.
Let's get ranking!
What is Honeyminer?
Honeyminer is cryptocurrency mining software for persons seeking to mine Bitcoins with their computer (laptop or PC). At present, it's available for Windows (with Mac support soon coming), and enables users to get started right away.
Specifically, Honeyminer gives literally anyone access to sophisticated mining software, and is ideal for persons considering getting into cryptocurrency and Bitcoin mining during this current bear market. Honeyminer boasts a proprietary mining algorithm which identifies the most profitable cryptocurrencies to mine at the moment, and then ultimately converts them to Satoshis (BTC). All mined coins are converted to Bitcoin, so you don't have to lose out on value through conversions and other transactions.
Additionally, Honeyminer is serious about their security, assuring users their employing the highest standard for mining security. Most notably, Honeyminer enables:
Anonymity & Encryption:

a Secure Sockets Layer (SSL) along with aggressive encryption to ensure information and data passing through their servers is anonymous and protected.

Access Control:

users may utilize their two-factor authentication (2FA) to safeguard accounts.

Asset Protection:

nearly all of Honeyminer users' digital assets are stored via cold storage, meaning they haven't been kissed by an Internet connection, and are protected against most modern threats.

Fully Audited Code:

all Honeyminer code has been and is audited by in-house security experts to ensure minimal risk of malicious code.
We highly recommend Honeyminer for crypto novices and enthusiasts who are looking to diversify in this current market and acquaint themselves further with the Bitcoin mining process.
Honeyminer Profitability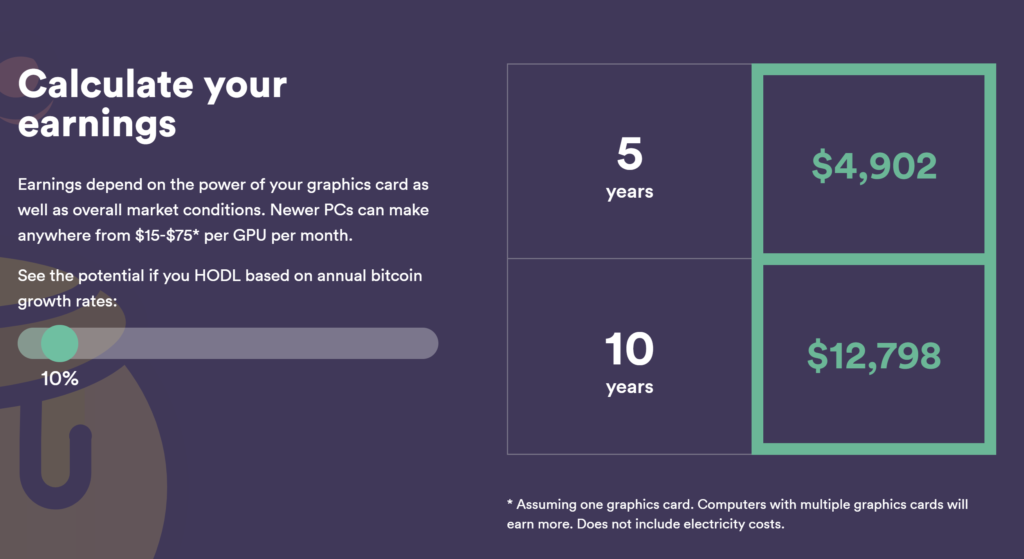 Just for signing up with Honeyminer, users are gifted 1000 Satoshis, or roughly USD $.07. Note that your overall earnings will depend on the power of your graphics card (and of course market conditions), with newer PCs and computers making anywhere from $15-$75 per GPU per month. Computers built for gaming and newer PCs will generally earn the most per year.
Keep in mind that Honeyminer likely won't be netting you incredible returns, but is a good starting point if you're willing to run the software in the background. Honeyminer's website enables prospective miners to calculate their potential earnings, based on Bitcoin's annual growth rates (well, that would be a dream in this market!). You can check that out here.
For example, for users running the Honeyminer software 24 hours per day, coupled with a 10% annual Bitcoin growth rate, users could expect to make up to USD $5k over the course of 5 years. Just remember, these are estimates and there's no guarantee your BTC rewards will be worth that much due to volatile market conditions.  
And, it's important to mention that there is a possibility of your computer's value and longevity declining due to constant use of Honeyminer. If you're mining Bitcoins and crypto with an old or damaged laptop, there's always a higher likelihood that it might not live to see the end of the day. So, make sure to tread carefully.
Crunch the numbers and assign a metric of value to your laptop/time/energy to ultimately determine whether Honeyminer is worth it for you.
How Can I Get Started?  
Honeyminer prides itself on being "super straightforward," allowing users to get started right away. All you need to do is download the Honeyminer software and run it, and you'll be well on your way to earning free Bitcoins and mining your first batch of crypto.  
Also, make sure that some antivirus software may flag Honeyminer, as it is an unknown application, so make sure to authorize its access.
If you have any more questions about Honeyminer and its mining process, head on over to their FAQ or check out their 'Crypto Education' corner.
At Blockchain SEO, we're here to help you grow your online presence and amplify your voice. Our team consists of experienced legal and blockchain professionals, who boast years of experience curating content in both industries. We have proven success in the space, and spent years figuring out what works and what doesn't, so rest assured you're in good hands.
Reach out today for your free website diagnosis and consultation by filling out our contact form online or by emailing us at owen@blockchainseo.net.   
It's time your message is heard.