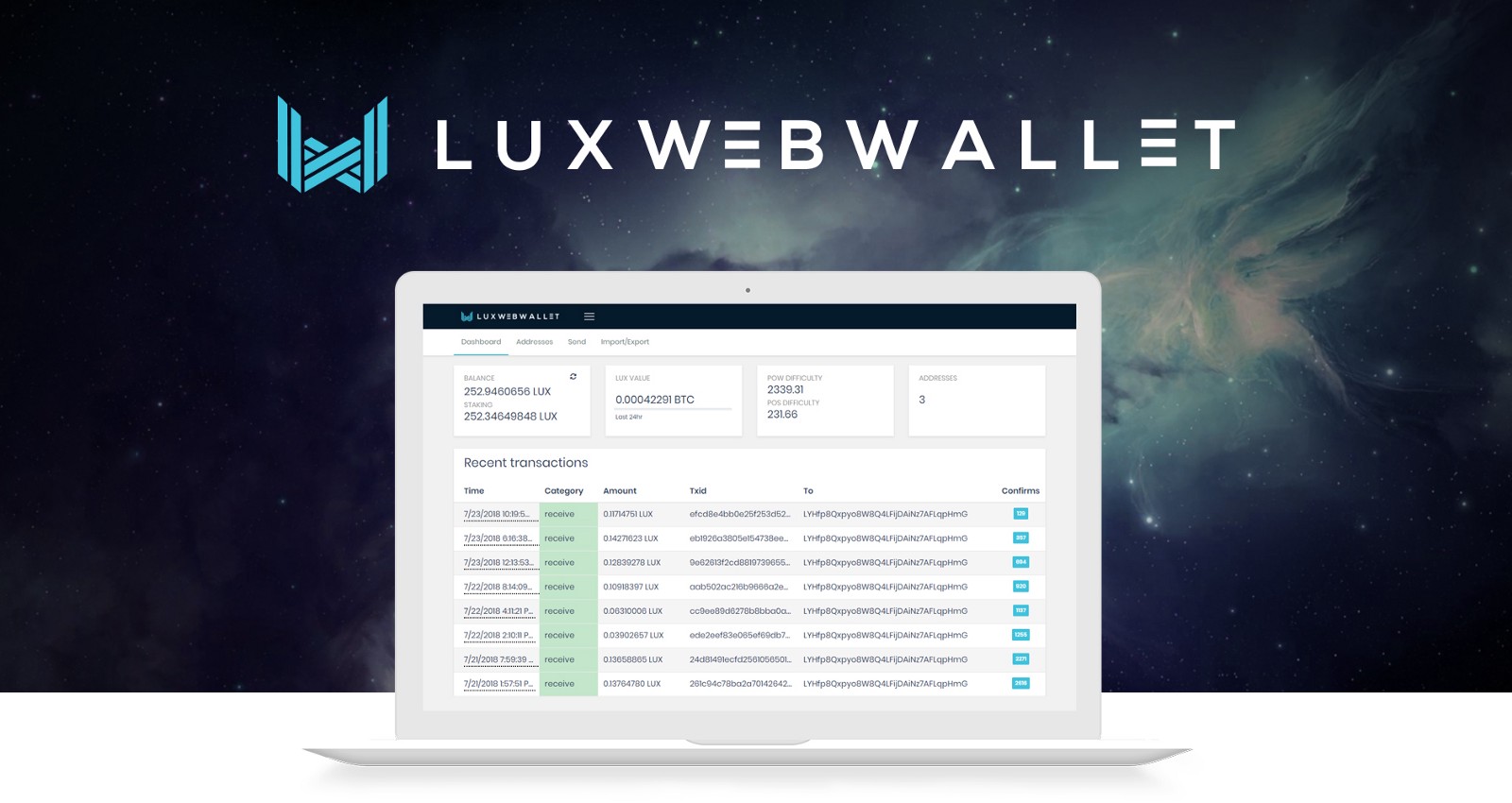 3 Reasons to Start Using the Lux Coin PoS Web Wallet
If you're looking to store your Lux Coin without having to run your computer 24/7 in order to generate Lux stakes, then consider using the Lux Coin PoS web wallet – a one-of-a-kind, free, Proof-of-Stake Wallet-as-a-Service for Luxcore users. In this post, we're going to walk you through 3 reasons why you should consider using Luxcore's web wallet and how it differs from traditional staking and web wallets in today's crypto-sphere.

Before getting started, you can download the Lux Coin web wallet by heading over to https://www.luxcore.io/poswebwallet/. Always remember to make sure you're downloading the wallet from the Luxcore website!

Extremely High Degree of Decentralization
Luxcore's first of its kind web wallet was created to address the most notable security concerns which have plagued Proof-of-Stake hashing and wallets, building upon traditional web wallet uni-node implementation through the utilization of both Amazon Web Services (AWS) and hosting across countless parallel nodes – ultimately, this eliminates a single hardware point of failure.

Data is also readily available and able to be easily replicated in case of data loss thanks to the AWS RDS for database functions.

Additionally, as the architect behind the Lux Coin wallet 'Sebi' describes it, "Every part of the architecture is as separated and stateless as possible for less of a security threat." Each wallet-hosting node is completely isolated, and boasts customized firewalls to control for port security, Internet gateways, VPC peering connections, and private subnets.

While most cryptocurrency web wallets sacrifice security features to support easy-to-use interfaces, Luxcore ensures users can enjoy both, without compromise.
Complete Control for Users
One of the most notable security features for the Lux Coin web wallet is that Luxcore users retain complete control of their private keys, and are able to import and export private keys directly with the web wallet (instead of sending funds wallet-to-wallet). And, that's not all, once users are done with a web wallet address, they're free to export and delete their private key from the server.

Furthermore, the ability to import and export keys cuts out the need to pay network fees, making for a seamless and attractive option for users moving funds frequently.

Lux holders also receive email notifications for every login and bad attempt, and are provided with a log of all logins. Such additional features provide assurances for users that their account is actually monitored.
Static Staking Reward System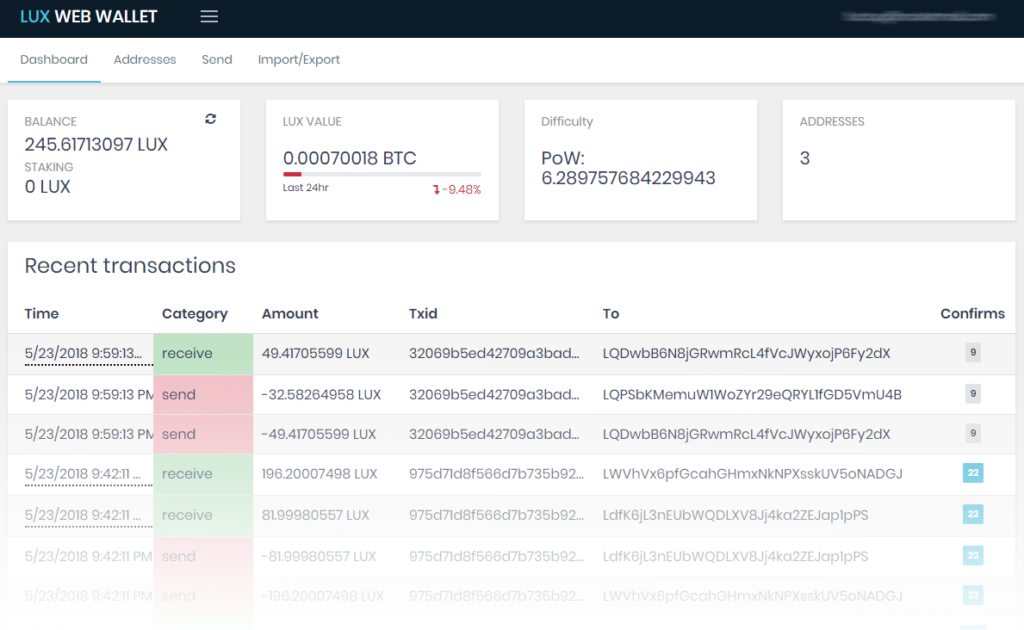 As opposed to dynamic rewards systems used by a high percentage of PoS projects (which ultimately rewards a percentage of coins based on the amount of coins you hold), Luxcore employs a static rewards system – fixed at a 1LUX rate (80% staker/20% masternode) for all stakers. The major difference being that staking individuals now receive the same payout, no matter what. Naturally, Lux holders who have more coins will be rewarded more often.

Lux users aren't even required to leave their computer open to generated Lux Coin rewards, making for an attractive option for those not glued to their computer. Plus, PoS maturity is reached within just 36 hours, so Lux holders are able to get started almost immediately.

Lux users are also able to view the value of Lux in both BTC and USDT.

Final Thoughts
In a blog post explaining the core features and fundamentals of the Lux web wallet, Sebi reminds users, "Always use a very strong password and make sure 2FA is enabled." Users should always remain vigilant for phishing attempts, and always make sure the website URL matches the website you're trying to browse.

So, if you're looking for a blockchain project and wallet rolling out both easy-to-use and technologically sophisticated features, consider checking out Luxcore and it's one-of-a-kind PoS web wallet.

Once again, to download the Lux Coin web wallet, head on over to https://www.luxcore.io/poswebwallet/ and get started! We also strongly recommend checking out this PoS web wallet walkthrough.