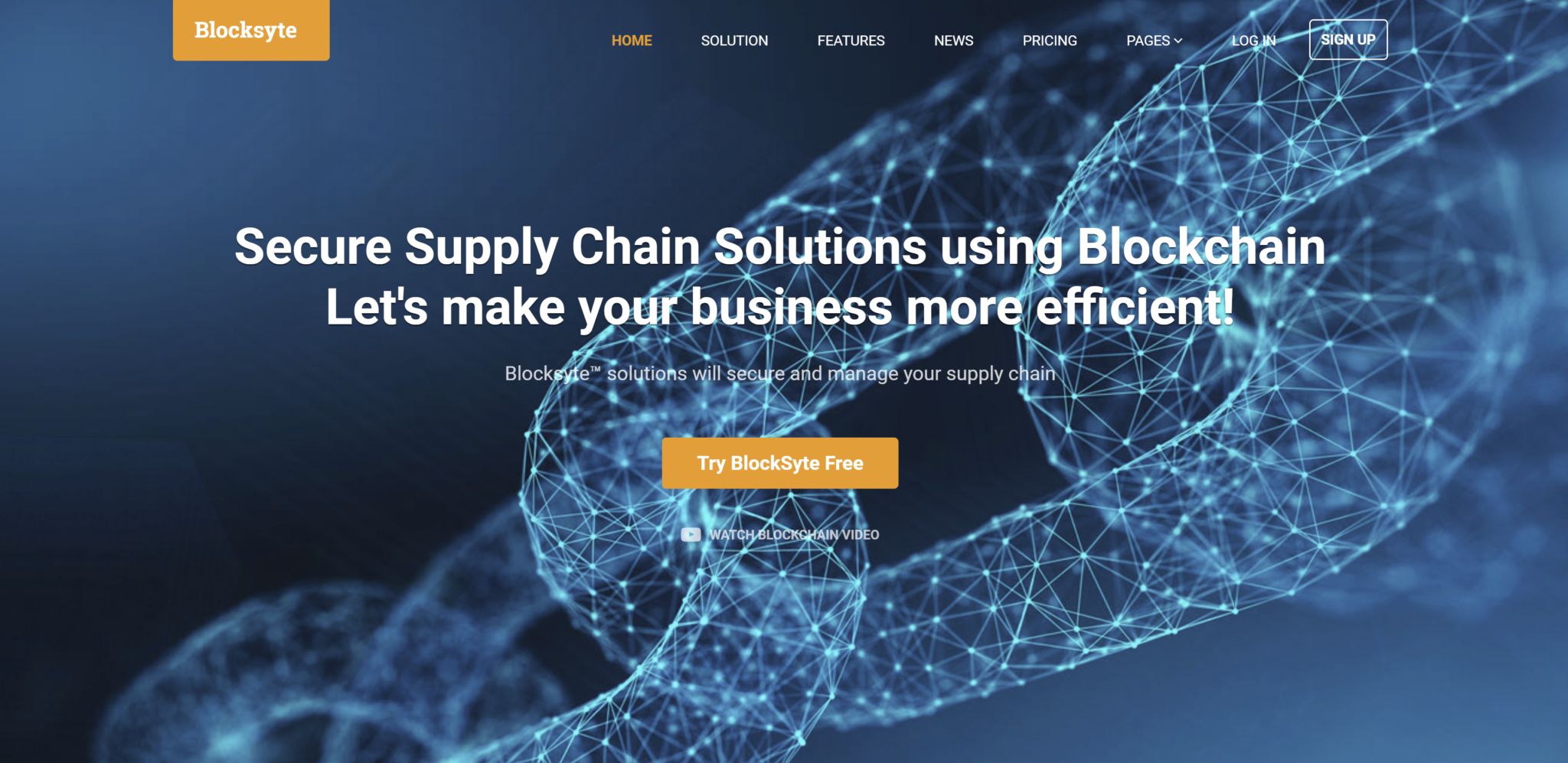 Blocksyte: Putting the Granite State on the Blockchain Map
If you need another reason to believe New Hampshire is quickly cementing itself at the forefront of blockchain-friendly states in the U.S., look no further than Blocksyte – a Nashua-startup and SaaS-based blockchain solution for mid-market supply-chain companies in the midst of tackling the USD $1.4 trillion food industry. Through their highly adaptable and industry-agnostic low-cost and simple to use blockchain solutions platform, Blocksyte is providing a one-stop application for enterprise looking to skirt traditional onboarding and maintenance complexities associated with blockchain network integration.

Blocksyte is a voice for the "little guy," recognizing a glaring gap in today's blockchain supply-chain ecosystem – whereby supply-chain solutions are being developed for large, multi-national and million dollar companies. Specifically, Blocksyte is accounting for small-to-medium-sized businesses (SMBs), which also greatly stand to benefit from integration onto the blockchain and utilization of IoT sensors and tags.

But how is Blocksyte helping overhaul the inefficient, untrusted, and unverifiable supply-chain practices of today?

Blocksyte's Core Focus
Blocksyte's fundamental focus and mission is on the implementation of secure, trustless supply-chain solutions with real-time IoT tracking of 'Key Performance Indicators' (KPI). For example, Blocksyte's full end-to-end application and API for "certificate-based and blockchain secured data, documents, and smart-contracts" and easily configurable hardware solution, offers four core benefits:

Competitive Edge For SMBs: Blocksyte's easy-to-use and simple step-by-step application structure ultimately removes the barrier for small-to-medium-sized businesses looking to compete at a global level, and with international organizations and enterprise.
Hands-Off Integration: Blocksyte takes care of integration onto multiple enterprise blockchain networks – all via one, easily manageable system.
Low-Cost: Not only does Blocksyte's low-cost base monthly outlay cover necessary hardware and software, it includes training and support as well.
Blockchain-Ready Enterprise Interaction: Blocksyte enables users to adapt to whatever blockchain a key retailer and partner is using, and acquire new customers when others are unable to meet technology demands.
Blocksyte's solution sanctions enterprise to place 3-inch by 1-inch smart tags inside products, on pallets, or in containers, which are then used to track, monitor and control Key Performance Indicators, such as humidity, temperature, shock, and tampering (in real-time).

Benefits to customers of Blocksyte's full suite blockchain platform are countless, with businesses not only able to tackle costs of wasted product, trace food and product quality, and quickly identify instances of food contamination and illness, but also prevent fraud and theft, and facilitate further compliance with requisite safety regulations.

One Blocksyte customer, CF Cold Storage, which operates a 107,000 square foot refrigerated warehouse praised Blocksyte for its measurable increase in efficiency since deploying the Blocksyte application – with Founder and President Costas Flessas, acknowledging, "By choosing Blocksyte, we gained the ability to monitor our shipments in real-time. The result is that we spend less time each day manually tracking items, and have reduced losses and improved our delivery times."

New Hampshire As a Blockchain Haven
According to a recent press release published in the "New Hampshire Business Review," Blocksyte is in the process of onboarding specialty food businesses to further test its cloud-hosted blockchain solution.

Speaking on the merits of Blocksyte's real-time monitoring solution, Blocksyte CEO and co-founder, Alan Pelz-Sharpe, noted, "For high end artisanal products, that's just not been possible before…If you [the manufacturer] have contracted to move cheese to Manhattan and it hasn't been transported properly, you can void the contract in real-time."

So, why New Hampshire as a base for Blocksyte?

When the company was first founded (in 2018), one of Blocksyte's co-founders suggested setting up shop in New York, however, Pelz-Sharpe had other ideas. "It was me who said, 'Why? Let's go for New Hampshire… There's tax advantages, real estate here is lower, so we know that but we really wanted to tap into the community that's a little bit closer to the food supply chain."

Pelz-Sharpe further opined, "This is a region that's famed for its cheeses. It's really important that you have a really good eye on how it's transported and stored. If it's transported in a truck in 90 degree heat, it's not going to taste too good."

Blocksyte is positioning itself nicely at the forefront of blockchain technology in the 'Free State of Blockchain,' which is set to vote on whether the state will accept cryptocurrencies for tax payments and other fees later this month.

You can read up further on Blocksyte by heading over to their website and checking out some their recent press releases and news articles. We also recommend taking a look at some past "bleeding-edge" technology solutions the Blocksyte team has developed in their 20 years of business.