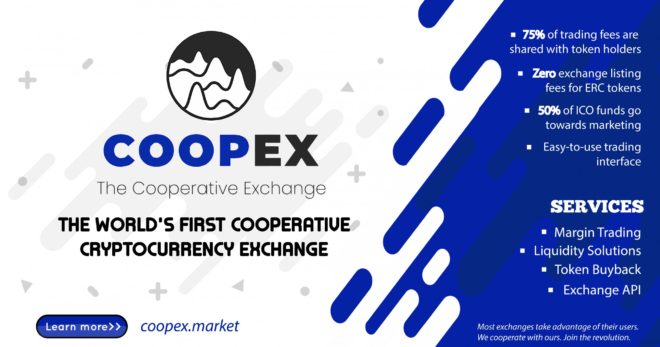 The Cooperative Exchange (COOPEX): A New Hybrid DEX
Looking to get started with an up and coming hybrid-decentralized exchange? We recommend checking out the Cooperative Exchange – the world's first cooperative decentralized cryptocurrency exchange.
What is the Cooperative Exchange?
Specifically, The Cooperative Exchange (COOPEX) is aimed at overhauling traditional cryptocurrency exchange reward programs through the implementation of a monthly buyback and burn program, where every month 75% of all COOPEX trading fees are collected and used to buy back the COOP token (the native token of The Cooperative Exchange).
So, what's notable about this? Well, it's simple supply and demand, as tokens are bought back and burned, supply is decreased and token value subsequently increases – ultimately incentivizing users to purchase and hold the COOP token. The COOP token also enables users to vote on exchange protocol changes, along with project listings, giving users more than just rubberstamp voice (as is the case with most other exchanges).
Free Exchange Listings For ERC20 Tokens
Furthermore, COOPEX is tackling one of the most important issues plaguing smaller capitalization blockchain projects by offering free listing fees for any ERC20 tokens and projects based on other popular blockchain platforms (think EOS and NEO). In today's present cryptocurrency exchange ecosystem, it's often difficult and out of the question (due to financial resources) for smaller cap blockchain projects to pay exorbitant listing fees to begin trading on an exchange. Now, regardless of funds, projects are able to list and gain audience without spending an arm and a leg. And, in the present bear market, that's much needed.
The COOPEX white paper cites three notable listing nightmare examples, including the $CRED/Kucoin listing debacle, where Verify ($CRED) – a decentralized reputation protocol built on the Ethereum blockchain – paid the 5 BTC listing fee to be listed on Kucoin. It was only after 12 weeks, that the Verify team was provided with their listing date, which ultimately failed to manifest. And to top it all off, they never received a refund.
Post-ICO & COOPEX's Future
COOPEX recently wrapped up its ICO in September, raising just over $80,000 (enough to run the exchange according to COOPEX CEO), and now, is in the midst of fine-tuning and developing the exchange – specifically the UI. COOPEX has also noted that airdrops are on the horizon for token holders and those who have signed up on the exchange. On November 11, 2018, COOPEX airdropped their first set of tokens to exchange users, issuing 10 million VIC tokens to each user for the upcoming decentralized lottery platform 'Victory Protocol'.
Finally, they've also just listed on Mercatox, a digital and cryptocurrencies exchange, and are planning on listing on IDEX (one of the largest decentralized cryptocurrency exchanges in today's blockchain ecosystem).
If you'd like to read up further on how COOPEX is overhauling traditional cryptocurrency exchange reward programs and easing the listing process for smaller cap projects, head on over to their website and check out their white paper. Or, if you're new to cryptocurrency and looking for some simple breakdowns of important concepts in crypto and blockchain, consider checking out their blog.  
Are you a blockchain project or law firm and looking to to increase overall site traffic and users, generate eye-catching and informative content, and grow conversions? Reach out to Blockchain SEO today for a free website diagnosis today!
To get started, email us at owen@blockchainseo.net, or fill out our contact form online.
It's time to get ranking!