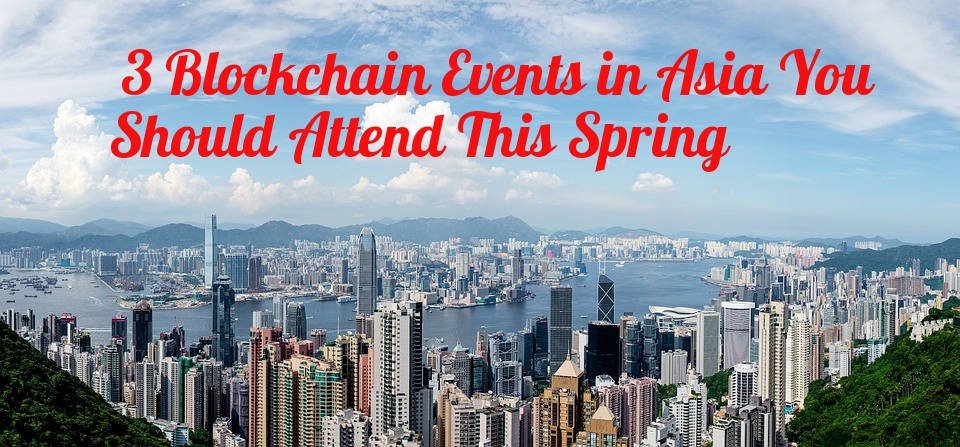 3 Blockchain Conferences in Asia You Should Attend This Spring
Curious about the best blockchain events and conferences to attend in Asia this Spring, 2019? Look no further. We've got you covered. In this post, we're taking you through 3 blockchain events you shouldn't miss out on, where to purchase tickets, and several of the major speakers at each.

Do let us know in the comments if there are any conferences or events in your country or city that we should be keeping an eye on, and hopefully we'll see you there.

Let's get to it!

TOKEN2049 Hong Kong (March 13, 14)
Just around the corner is TOKEN2049, set to take place at the Kerry Hotel this March 13th and 14th in Hong Kong. TOKEN49 bills itself as "The Premier Crypto Event in Asia," and is not looking to disappoint, boasting some of the biggest names in crypto and blockchain and an estimated 2,000 attendees.

Some notable speakers include; Litecoin creator and founder Charlie Lee, IOHK and Cardano CEO Charles Hoskinson, Tron founder and CEO Justin Sun, and President of Lisk Max Kordek. TOKEN2049 will also play host to the Ethereum Asia SuperMeetup, where members of the Ethereum foundation (including Ethereum co-founder Vitalik Buterin) and several community leaders across Asia will gather to discuss the future of the Ethereum community.

Several interesting talks listed on the speaking schedule include:

The Decentralized Future: Interoperability and Scalability – with Aion CEO Matthew Spoke and Wanchain founder and CEO Jack Lu.
Why Privacy Matters – with Beam CEO Alexander Zaidelson and Horizen Co-founder Robert Viglione.
Stablecoins: The Separation of Money and State – with managing director of Circle Jack Liu and co-founder and COO of Digix Shaun Djie.
The speaking schedule will also close with a 35 minute fireside chat with Litecoin creator Charlie Lee on the final day, and provide an exclusive preview screening of an upcoming film on failed New Zealand crypto exchange, Cryptopia.

Attendees can pay for their tickets in either crypto or USD, with early bird tickets running you USD $999 or approximately HK $7,800.

You can find the entire schedule of events here – https://www.token2049.com/schedule. Finally, we recommend heading on over to the TOKEN49 website to watch past highlights and read up further about the event.
Deconomy Seoul 2019 (April 4, 5)
Everyone knows that South Korea is crazy for crypto (well, there's also a blockchain conference upcoming in Pyongyang too!), so what better place to hold an event than in Seoul? Deconomy Seoul 2019 is great if you're looking for good bang for your buck, as it's only USD $10 for an exhibition pass, $99 for a full pass (which includes access to exhibition booths, keynotes, and panels), and $999 for a limited VIP pass.

Deconomy Seoul 2019 is located at the Jangchung Arena, located in the Jung District of Seoul, and boast some of the biggest blockchain names in the industry, including Ethereum co-founder Vitalik Buterin, Binance CEO Changpeng Zhao, Bitcoin advocate Andreas Antonopoulos, CEO at Coinbase Japan Nao Kitazawa, and Consensys CEO Joseph Lubin. It's set to tackle topics ranging from cryptography, to P2P networks and blockchain technology, all the way to philosophy and business.

The forum will include two full days of discussions and presentations, along with after networking parties. You can find a 2018 recap of Deconomy Seoul on their website. Some notable statistics include the attendance of over 150 companies, 80+ speakers, and 2400+ attendees.

You can find more information about Deconomy Seoul over at their website, and purchase your tickets here – https://deconomy.com/tickets/. You can pay with BTC, XRP, BCH, and BSV.

World Blockchain Summit Taipei (April 25, 26)
Set in the City of Azaleas (Taipei) and on an upcoming blockchain island (Taiwan), the World Blockchain Summit is coming to Taipei this April 25th and 26th, 2019. Taiwan has quickly been positioning itself as a crypto hotspot and hub, and is home to several notable projects, including Cobinhood and CoolWallet. It's also been referred to by Binance CEO Changpeng Zhao as the "home of Bitcoin."

The World Blockchain Summit Taipei will be held at the Hilton Taipei Sinban, in New Taipei City, and is part of a global series connecting global blockchain experts and technology players in the space. It's also set to feature enterprise use-cases, government use-cases, inspirational keynotes, panel discussions, and more. Also, there's a pitch competition for startups looking to raise funding for their platform or company, with prizes ranging from USD 10,000 to 1 million – should your company avance to the next round of the Startup World Cup and ultimately win.

Several notable speakers include the infamous John McAfee of McAfee Associates, Tim Draper of Draper Associates, and Roger Ver of Bitcoin.com. There will also be numerous featured discussions, including how to unlock blockchain technology for smart cities, the ultimate vision for crypto exchanges, and trends in enterprise blockchain implementation.

The super early bird delegate pass (for representatives from corporate organizations) will run you USD $295, while an exhibitor package (for representatives of startups and SMEs) will cost $3,000. You can find more about ticket pricing over at the World Blockchain Summit tickets page.

For additional information about the World Blockchain Summit Taipei, head on over to their website. You can also find a list of all the speakers here – https://taipei.worldblockchainsummit.com/speakers.

Final Words
There you have it! 3 of the best blockchain conferences and events in Asia you should be attending this Spring, 2019. Make sure to let us know in the comments any events or conferences you'll be attending, and hopefully we'll see you there! We'll be rolling out another article soon on 3 blockchain events in North America you should be checking out as well, so make sure to check in again soon.

Make sure to follow our blockchain blog for all the latest cryptocurrency and blockchain updates, news, and informative articles. Feel free to let us know any topics you'd like us to write about in the comments.

-Obiter Cryptum