Consider this your ultimate guide to Bitcoin Cash faucets and free Bitcoin Cash.
The crypto market has seen a momentous surge in both market capitalization and sentiment over the past month, with Bitcoin, Bitcoin Cash, and other cryptos consistently climbing in price. With renewed crypto market sentiment, comes rejuvenated demand for free and straightforward methods to grab yourself from free cryptocurrency (and Bitcoin Cash). In the past months, we've seen BCH climb to over USD $445, and a nearly $13,000 Bitcoin.
In this article and guide, we're going to take you through how to get free Bitcoin Cash, the number five ranked cryptocurrency by market capitalization as of the date of publish (nearly $7 billion). We're sharing this article as we understand not all blockchain enthusiasts and BCH novices are comfortable buying BCH from a platform or exchange (and may not legally be able to), so we're providing several free alternatives and Bitcoin Cash faucets to use to earn free Bitcoin Cash.
If you're looking to earn other free cryptos and altcoins, check out our previous articles which tackle:
While Bitcoin Cash faucets and BCH generators are a way to earn crypto, they still do come with some downsides, so we recommend approaching it carefully and methodically. Also, understand that this guide should not be construed as financial advice, and is solely meant to act as a starting point for novices just getting into Bitcoin Cash (BCH) and crypto.
Now, let's take a look at what a Bitcoin Cash faucet is and how to get Bitcoin cash for free.
The Brass Tacks: What is a Bitcoin Cash Faucet?
Crypto and Bitcoin Cash faucets, also known as crypto/Bitcoin Cash generators, are simple and free ways to earn free Bitcoin Cash. At BlockchainSEO, we recommend using crypto faucets as a starting point for getting into blockchain and cryptocurrencies, as they provide a starting point and background for users to learn how transfers work. They are also great for users looking to try out their new Bitcoin Cash or cryptocurrency wallet.
Think of BCH faucets as a free Bitcoin Cash lottery, or free Bitcoin Cash generator, where you can complete simple tasks (such as pressing a button or rolling dice) to get free BCH. Simply put, Bitcoin Cash faucets are websites or applications which grant free Bitcoin Cash to users who engage in a series of micro-gamified-tasks. This could range from filling out a captcha, to answering a trivia question, or even just clicking a button. After playing a game, users are then rewarded with free Bitcoin Cash.
It's extremely important that Bitcoin Cash enthusiasts understand that these websites and applications are only giving out small amounts of free Bitcoin Cash(BCH), so it can take a long time to earn enough BCH to withdraw it.
As of the date of publish, Bitcoin Cash's price currently rings in at USD $306.
So, how do Bitcoin Cash faucets make money? Are Bitcoin Cash faucets legit?
It's actually very straight forward. Free Bitcoin Cash faucets and free Bitcoin Cash generators earn money through advertising revenue. The more users that come to their site, the more impressions and clicks on well-placed ads. This is also important to note when using BCH faucets – you will be bombarded with numerous ads and offers.
Bitcoin Cash faucets are legit however, it's just takes some sifting through that haystack for a needle sometimes.
These ads generate money through pay-per-click, pay-per-impression, and other pay-per-X revenue methods. This is what ultimately allows them to give away free Bitcoin Cash and users to receive free Bitcoin Cash.
It bears repeating, we recommend approaching BCH faucets with realistic goals and a practical mindset, as it can take you quite a while to earn free Bitcoin Cash and have enough to withdraw and transfer to a legitimate BCH wallet.
Great, now that we've walked you through how Bitcoin Cash faucets make money and distribute free BCH, let's take a look at three of the best Bitcoin Cash faucets out there.

3 Best Bitcoin Cash Faucets to Earn Free Bitcoin Cash
Always remember to do your own research and conduct your own due diligence when investing in cryptocurrencies and blockchain projects, and never devote more time or money than you're comfortable losing/wasting.
Let's finally get into the meat and potatoes of how you can receive free Bitcoin Cash!
1. Moon Bitcoin Cash Faucet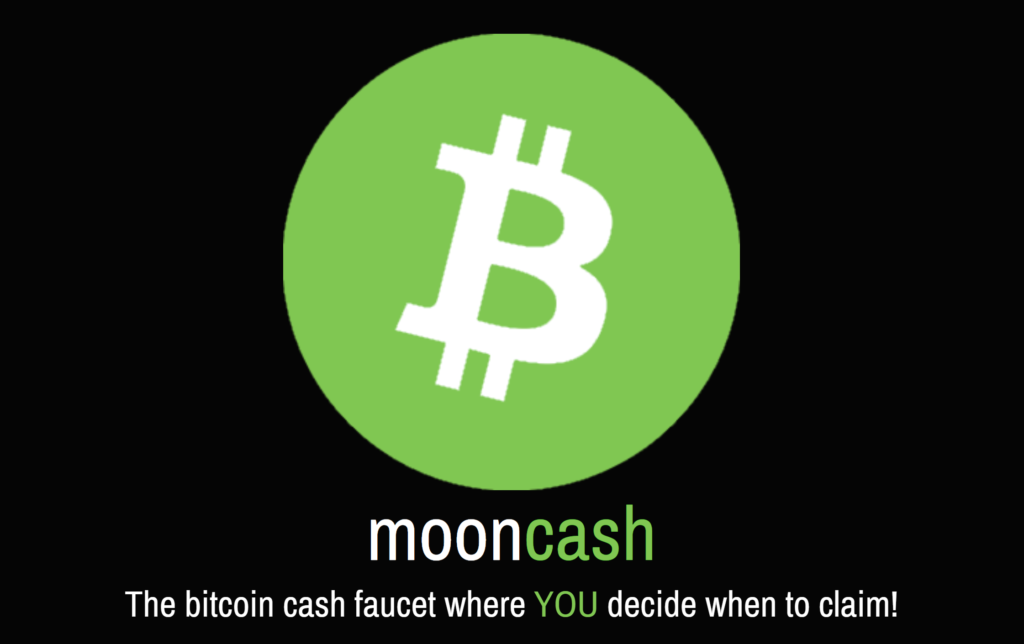 The Moon Bitcoin Cash faucet is of the best Bitcoin Cash faucets for users get free Bitcoin Cash. Not only does it boast a large user-base and potential 300% loyalty bonus, they are also extremely active on social media and enable users claim their Bitcoin Cash whenever they want. Users decide how often they claim!
This is interesting because most Bitcoin Cash faucets (and crypto faucets) only allow enthusiasts to claim every X hours, or X days. However, Moon Bitcoin Cash Faucet allows you to claim your BCH at any time.
Moon Bitcoin Cash Faucet also boasts a referral bonus (25% lifetime commission on all faucet claims) and several mystery bonus schemes
Keep in mind that if you have blocked advertisements, then you'll be prevented from making a claim with the Moon Bitcoin Cash Faucet – along with most cryptocurrency faucets. So, make sure to disable your ad-blocking software or plug-in.
Finally, don't worry about a Bitcoin Cash wallet, as the Moon Bitcoin Cash Faucet is paired with the CoinPot microwallet. Simply register for CoinPot and start receiving your Bitcoin Cash payments to your microwallet immediately.
2. BCHFaucet.Info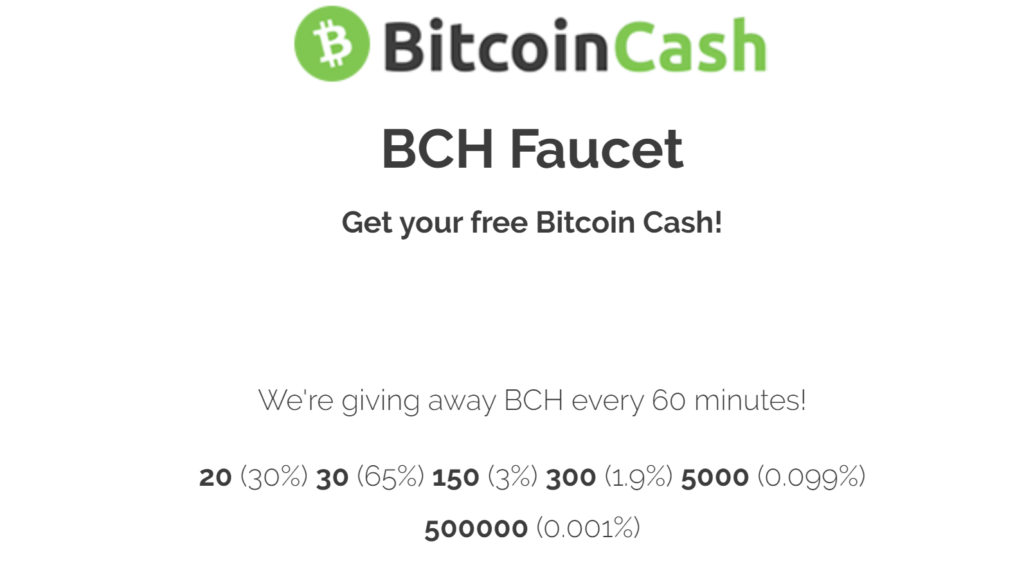 If you've been searching for a free Bitcoin Cash faucet with an instant payout, look no further. BCHFaucet.Info is an extremely popular BCH faucet for users looking to earn free BCH every 60 minutes. Specifically, 30% of all users will receive 20 Satoshis worth of BCH, while .001% of all users will receive 500,000. All users need to do is solve a captcha, sit back, and get your free Bitcoin Cash.
Keep in mind that the BCHFaucet is only for Bitcoin Cash (BCH), and not Bitcoin (BTC). Once you've started, you'll need to make a claim every 30 days to keep your account active.
As of the date of publish, one of the top users on BCHFaucet.info has claimed nearly 2% of a BCH, which would have been worth over $20 at its peak price. Recent withdrawals and claims are also broadcasted on BCHFaucet.Info's homepage, making it quite transparent and obvious what you can expect for payouts. That way you can decide if it's actually worth your time or not.
Finally, BCHFaucet.Info also boasts countless other cryptocurrency faucets, including Litecoin, Monero, Decred, Factom, and more.
3. Free-BCash.com Bitcoin Cash Faucet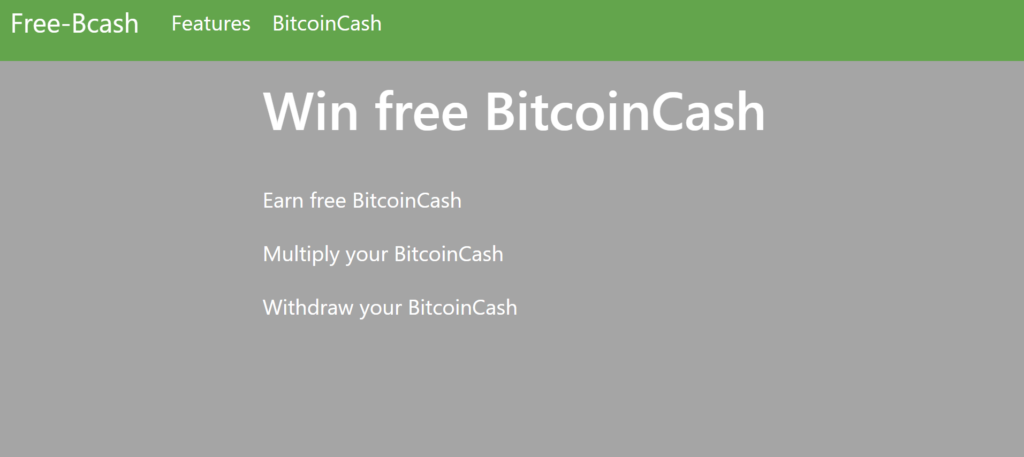 For users looking to earn BitcoinCash, multiply it, and withdraw it all in one spot, Free-BCash.com is a faucet worth checking out. It sports an easy-to-navigate homepage, where users can sign-up immediately and get claiming.
Every hour, Bitcoin Cash enthusiasts can earn up to potentially USD $200 in BCH. It just depends on the roll of the dice! If you're looking to generate some BCH through a referral program, Free-BCash.com's referral program enables users to earn 50% of the free BCash claimed by their referred. It also ranks as the top Bitcoin Cash faucet for users looking to earn free Bitcoin Cash every hour.
Users also can gain 6% yearly interest on their earned Bitcoin Cash by storing it on Free-BCash's Bitcoin Cash wallet. You can read further about it on their homepage.
Free-BCash.com also sports BCH's daily price in the upper right hand corner of the homepage, so you can stay better informed, and withdraw your BCH after a favorable market fluctuation. Finally, Free-BCash provides a short explanation of what Bitcoin Cash is, it's history and hashing algorithm, where you can trade it, and more.
Final Thoughts on How to Earn Free Bitcoin Cash & Free Bitcoin Cash Generators
Free Bitcoin Cash generators and BCH faucets should be approached with caution. However, they do provide a legitimate starting point for novices looking to gain a better understanding of how Bitcoin Cash and the blockchain ecosystem works.
There's plenty of ways to earn free cryptocurrency out there, this is just one of them. We hope this article serves as a launching point for future endeavors in crypto. And, always remember to conduct your own due diligence and weigh the pros and cons of the time associated with using a free Bitcoin Cash faucet.
Once you've accumulated a sufficient amount of Bitcoin Cash, we recommend moving it to a crypto hardware wallet to securely store it.
If you think we've left out any free Bitcoin Cash faucets, or have any suggestions on how to earn free Bitcoin Cash, let us know in the comments!
Make sure to keep up with blockchain blog for all the latest crypto articles, news, and updates, and don't forget to follow us on Twitter as well!