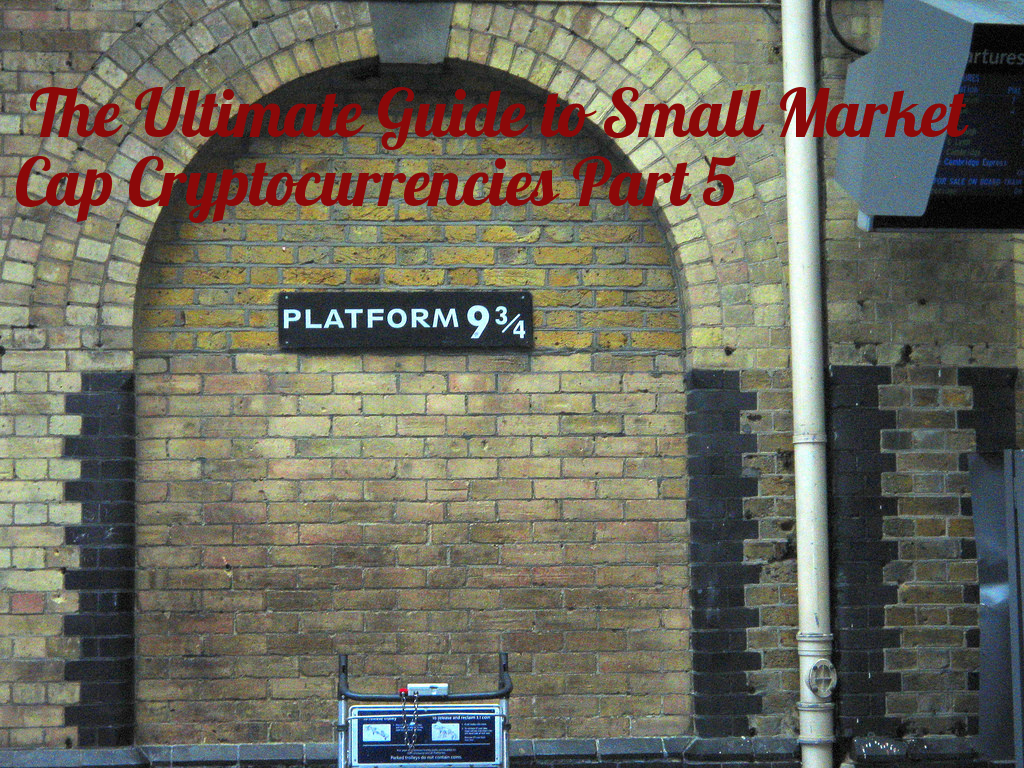 The Ultimate Guide to Small Market Cap Cryptocurrencies (Part 5)
Get ready! This article ends our five part guide to small market cap cryptocurrencies! It's been a wild ride and we've enjoyed diving further into some small market cap cryptos and altcoins that you may not have heard of or looked into before. Before reading this, we recommend brushing up on Parts 1-4 of our guide here:

Or, you can find all previous four parts on our Medium page here:

In our fifth and final part, we're taking you through five small market cap cryptocurrencies and blockchain projects which stand to disrupt and overhaul several major, established industries – from a project revitalizing outdated and technologically stunted practices in the legal sector, to another enabling the low-cost purchase and sale of renewable energy, all the way to a privacy coin leveraging a tongue-tying Harry Potter spell and protocol to secure and shield transactions.

We hope you take this guide as purely an introduction to 25 of our favorite small market cap cryptocurrencies and altcoins, rather than creed. Always conduct your own research before investing in any projects, and make sure you never invest more than you are comfortable losing. We really hope this guide motivates you to look into blockchain projects further, and we're always interested to hear your favorites and thoughts in the comments!

Finally, it bears repeating that the below small market capitalization cryptos are not ranking in any particular order and their market capitalizations are only as accurate as this guide's data of publish.

Now, let's get started and dive in to our final part of our ultimate guide to small market cap cryptocurrencies and altcoins!

Grin ($GRIN) – $7.7 Million
Launched on January 15, 2019, and free of ICO, pre-mine, and founder's reward, Grin is a new cryptocurrency implementing the Mimblewimble blockchain protocol and geared towards privacy and scalability. Before getting into the core mission and characteristics of Grin, let's take a look at what exactly this tongue-tying Harry Potter-named protocol is and why it has the entire blockchain ecosystem talking.

Created by anonymous user, Tom Elvis Jedusor (Voldemort's name in the French edition of Harry Potter), in furtherance of preventing "the blockchain from talking about all user's information," Mimblewimble is a lightweight blockchain protocol utilizing elliptic curve cryptography and providing strong anonymity guarantees for users, while radically departing from Bitcoin's approach to transaction construction. Notably, Mimblewimble boasts confidential transactions, noninteractive merging and cut-through of transactions, and full verification of the chainstate without user need to verify the full history.

Mimblewimble's purpose?

Specifically, Mimblewimble "shrinks" blockchain transaction history (able to be computed by even trivial computing hardware), while employing CoinJoin (a cryptographic mechanism) to obfuscate payment and transaction details (input and output).

Simply put, Grin is set to enable literally anyone to transact (or save) without fear of third-party and external control over their financial affairs, and is:

Private: Grin supports no amounts and no addresses, allowing for complete fungibility and transactions to be trivially aggregated and hidden via a "random walk" amongst peers before becoming publicly announced on the blockchain.
Highly Scalable: Mimblewimble's leveraging of cryptography authorizes past transaction data to be removed, ensuring Grin won't "collapse under its own weight."
Open-Source: developed openly and community driven, absent of control by a single company, individual, or entity.
Furthermore, Grin supports: clean and minimal implementation, Cuckoo Cycle Proof-of-Work (Cuckaroo and Cuckatoo), relatively fast block time (1 minute), a fixed block reward over time with decreasing dilution, and a smooth curve for difficult adjustments.

You can read more about Grin and its design for borderless and censorship-free transactions by checking out their website, original whitepaper, and secondary whitepaper.

SureRemit ($RMT) – $1.2 Million
With roughly 250 million foreign workers and immigrants remitting about USD $600 billion annually, paying punitively high remittance costs on top of lengthy transfer times, the remittance industry is in dire need of a significant overhaul. Cue SureRemit, a Stellar Lumens-based platform and ecosystem hyper-connecting immigrants (senders) looking to send money back home, while directly interacting with merchants to serve recipient needs in a more constructive and narrowly tailored way.

Via the Remit token, senders are able to purchase digital vouchers, known as 'SureGifts', which may be delivered to billions of recipients across the globe in form of SMS or e-mail. Subsequently, SureGift vouchers can then be directly spent on goods, services, and other necessities at SureRemit ecosystem partners.

Ultimately, SureRemit sanctions those living and working abroad to send payments back home in a faster and cheaper manner, while allowing users to:

Bypass excessive remittance fees (which generally range between 7%-12%),
Ensure money gets to family and friends in a timely manner (traditional remittances can take up to 72 hours),
Better control how the money being sent back home is spent (ex. specifying it's to be used for food, school, medicine, and other necessities).
For example, the cost of a $200 remittance to Latin America could see up to a 10% remittance fee, with Africa and other remittance corridors boasting even higher fees. There's countless considerations which plague remittance efficacy and international transfers, including; exchange rates, synchronized amounts, personal details, transfer method, and time frame. Furthermore, cash transfers are heavily regulated, often requiring identity verification before allowing the transfer of funds from one country to another.

So, what happens when an estimated 1.1 billion persons globally don't have an officially recognized identity document?

Persons making up the very fabric and workforce of our society suffer, and are unable to meet their most fundamental and basic of needs for survival and sustainability.

To put such things into perspective, nearly 40% of Somalis are estimated to rely on remittances for necessities, while in 2015 alone, the Bank of Mexico reported roughly USD $24.8 billion being sent home by Mexican immigrants (a figure higher than Mexican oil revenue that year).

You can read up further about SureRemit by checking out their website, white paper, and list of SureGift merchants.
Power Ledger ($POWR) – $32 Million
Imagine a world where electricity is reliable, clean, affordable, and available to anyone. Well, it's not far off… In fact, it's already happening as we speak, thanks to Power Ledger. Based on the Ethereum network and out of the largest country in Oceania (Australia), where more than one out of five households have solar panels installed, Power Ledger touts itself as an ecosystem of world-leading energy blockchain applications. Specifically, Power Ledger empowers the:

Purchase and sale of renewable energy,
Competitive costs and affordability,
Service reliability,
Interoperability between energy management mechanisms and manifold market pricing via their dual token platform (POWR and Sparkz).
Think of POWR as the fuel for the Power Ledger ecosystem, while Sparkz is the exchangeable trading token for the purchase and sale of energy.

Similar to how Uber, Grab, and AirBnb enable everyday persons to monetize their available and excess resources (cars and spare rooms), Power Ledger is authorizing consumers and vendors to interact at a peer-to-peer level – but this time, it's excess distributed energy resources (DER), and in a low-cost, convenient, trustless, and entirely transparent manner.

In March 2018, Power Ledger announced a partnership with Greenwood Solutions, to bring renewable energy trading to Burwood (Melbourne), Australia – Power Ledger's first commercial deployment in Melbourne.

Power Ledger's distributed and trustless ecosystem and trading platform eliminates the need for centralized and ministerial settlement and execution of millions of transactions (at rapid speed), expanding the traditional transactive energy economy from a bilateral one to a multilateral ecosystem.

And, consumer protection and interest preservation are at the very heart of it.

While Power Ledger's peer-to-peer energy trading platform is their most mature and recognized, it's important to emphasize that they are building an entire ecosystem of energy blockchain applications and products, including:

Power Port: for electric vehicle metering and settlement (note that globally, 2015 witnessed nearly 1.3 million electric vehicles hit the road, across almost 1.5 million charging stations).
C6 and C6+: automated reporting for generation of carbon credits and certificates.
Virtual Power Plant 2.0: a next generation amalgamation of the xGrid (P2P trading via a regulated electricity network) taking virtual power plant concepts to a new level, creating a conduit for transactions between owners of DER and multiple counterparties.
To read up further on Power Ledger, various partnerships across Australia, Liechtenstein, and New Zealand (to name a few), head on over to their website and check out their white paper.

Agrello ($DLT) – $9 Million
Possessing approximately 30.6 startups per 100,000 inhabitants, Estonia is poised to become a prominent fintech and blockchain hub, making it a ripe location for our next project – Agrello, an AI-powered blockchain interface enabling users to build out smart contract legal agreements and automate traditional legal services and mechanisms (which have remained mostly unchanged for the last several hundred years). Let's take a look at how Agrello is bringing legally binding contracts to literally anyone, and to the tips of their fingers

Agrello's new smart standard for legally binding contracting starts with a digital identity, used to represent the physical you on the Internet (think of this as essentially your online passport), followed by the creation of a 6 digit signature code, which can then be used to formalize and execute legally binding agreements (all with just your smartphone). Users may then digitize and secure their contracts via blockchain technology, all while:

Monitoring the state of the contract,
Automating payments and obligations, and
Reducing legal expenses and unnecessary paperwork, and
Minimizing exorbitant custodial, legal, and administerial costs.
Simply put, Agrello in in the midst of uprooting three core issues plaguing non-machine readable contracts; creation scope and complexity, tracking restrictions, and enforceability. Agrello also provides a legal contract template library and platform, where local community legal experts and practitioners share and provide up-to-date and "best practice" contract templates.

For example, Agrello's website lists a "Financial services payday loan" as a respective use case, whereby:

Identity Creation: potential debtor logs into a financial service platform, selects a financial product, and creates a virtual identity (goes through KYC),
Creditor Notification: creditor's page opens up the white-labeled Agrello KYC page, creates an Agrello ID, and receives a message in the CRM system about potential debtor product selection,
Product Selection: debtor chooses their product and receives a highlighted contract (automatically signed by creditor),
Execution and Monitoring: debtor signs the contact with their Agrello ID, selects payment, and both may now monitor the contract and receive notifications when significant events are triggered.
Some have confused Agrello's quiet social media presence for project despair and stagnation, however, Agrello noted in a recent blog post that they are moving towards a more "concentrated and business-based communication," meaning everyday communication isn't priority (especially in wake up building out their technology and product).

Keep in mind that Agrello website changed a while back, so head on over to https://www.agrello.io/ and check out their blog for all the latest updates.

Neblio ($NEBL) – $13.8 Million
Addressing the most substantial hurdles slowing enterprise integration onto the blockchain – difficulty of blockchain network deployment, development of distributed applications, and their packaging into an understandable and externally controllable corpus – Neblio is a secure, open-source distributed platform and next generation blockchain for enterprise solutions, applications, and services.

Currently, businesses and enterprise looking to integrate onto the blockchain are stuck somewhere in the between, without cost, time, and overall goodwill required to create and develop their own customized blockchain – longing for robust, customized tool boxes, comprehensive developer suites and ecosystems, and pre-packaged deployment platforms to ease and serve their reconditioning of traditional database architectures. Architectures which have failed to modernize and meet user, consumer, and enterprise demand.

Specifically, Neblio is lifting the blockchain into the "next generation" by simplifying such development and deployment for businesses and enterprise looking to generate unprecedented value by way of immutable, reliable, highly scalable, and secure blockchain technology. Most notably, Neblio supports:

Distributed API networks: spanning countless common programming languages (JS, .NET, Java, Node.Js, GO, PHP, Objective-C, and Python) – sanctioning developers to connect and interact with the Neblio network without needing a deep familiarity with blockchain technology.
Secure Identity and Records Management: from health records to financial transactions, Neblio ensures secure and decentralized records management (in any form).
Internet-of-Things and Big Data: providing a decentralized method for next generation IoT devices for product and service authentication and integrity.
Issuance of NTP1 Token: platform users and enterprise are able to issue their own NTP1 token (in just two clicks), which can be used to track assets, represent event tickets, facilitate a token sale, and more.
Blockchain consulting: for bringing customers up to speed in their deployment of networks and applications.
Neblio's suite of enterprise business solutions is at the very forefront of bringing blockchain technology to businesses and the mainstream, by allowing enterprise and services to launch at rapid speed all thanks to "quick and painless" and easy to integrate blockchain infrastructure and applications.

Additionally, Neblio is secured by 100% Proof-of-Stake (PoS) consensus, whereby NEBL users take their coins in order to secure the network. You can calculate your potential NEBL staking rewards by checking out either one one of the following calculators/pages: StakingRewards.com or NeblioStats.com.

You can read up further about Neblio by heading on over to their website and brushing up on their white paper. We also recommend checking out the Neblio blog for the latest updates.

Final Thoughts
And there you have it! The Ultimate Guide to Small Market Cap Cryptocurrencies. If you enjoyed our guide and took something of value away, then please let us know by clapping, commenting, or following us!

This year, we're focusing on putting out as much content as possible, and are always looking for new blockchain projects and altcoins to look into further, so please let us know your favorites in the comments or via private message (@blockchainseo).

To receive updates on our most recent news pieces and articles, follow us on Medium or Twitter. Once again, you can find Part 1, 2, 3, and 4 all on our Medium page and website.

Happy HODL'ing and make sure to conduct your own research and due diligence before investing!

-Obiter Cryptum